HISTORY OF COTABATO CITY STATE POLYTECHNIC COLLEGE (CCSPC)
An Abridged Version Compiled by Joanie TimpacHaramain, Ed. D.
Resembling man's civilization which had begun from simple to complex, Cotabato City State Polytechnic College started from 'thinness to thickness.' It was initially existed as a Cotabato High School (CHS) in 1924 subsisting for almost 43 years; then in 1977, it was converted into CotabatoCity National High School (CCNHS) maintaining its name for almost six years. Eventually in 1983, it was developed into Cotabato City State Polytechnic College (CCSPC) keeping its name for more than three decades but due to its vision for global competitiveness, it has now reached the peak of its vision towards the achievement of its official name as Cotabato State University (CSU) and it has been optimistically perceived to continuously shine until the end of time.
COTABATO HIGH SCHOOL (CHS)

            In the beginning, Cotabato High School (CHS) was situated in the downtown area of Cotabato. It was the capital town of Cotabato Province Empire in the Southern area of Philippine Archipelago and  prevailed as the biggest school in the division manned by the Thoma sites who supervised the Department of Public Instruction whichplayed a strong influence in the educational system during the Pre-War Period. CHS commenced as a comprehensive secondary school on February 8, 1924 which was established by Cotabato Provincial Board by virtue of Act No. 372 under the directorate of Governor Dionesio Gutierez endorsed by the Second Philippine Commission on October 16, 1916 based on the national requirements of maintaining provincial high schools in all regions nationwide (Villa, 2010).
            CHS began its first operation with minimal human and non-human resources until it rapidly flourished and grew in number catering enrolees from different feeder schools in the nearby town of Cotabato. The curriculum accented on Language, Mathematics and Social Sciences as well as varied Vocational subjects. Learners were exposed to diversified vocational, technical and academic trainings that prepared them for administrative civil service, good citizenship and democratic society under the strong administration of the pioneering school leaders Adolfo Cascolan (1924-1934) and Aniano Tolentino (1935-1942) during the Pre-War Period.
            Among the Post War CHS principals who contributed for the improvement of curriculum and instruction including infrastructure development of CHS were: Basilio F. Baptista (1945-1947), Jose Gracera Medina Sr. (1947-1965), Rosario Orendain Alvarez (1965-1971), Pablo YTurralde Alpas (1971-1976), and Payakan Gumama Tilendo (1976-1986).
            Some of the administrators' significant contributions included the construction of the school buildings, athletic oval, old-big grandstand, Main Building, school perimeter fence, campus front area, New Buildings at the New Site (Sero Subdivision) such as the Two-storey Armory Building; and improvement of the school publication.Other important accomplishments were the creation of the athletic stadium, old grandstand with four hectares athletic field, Horticulture Building, two-storey Science Building, and the Boy Scout Building. Likewise, the improvement of instruction led students to become competitive in academics and even in sports fest until the institutionhad become the center of training and development for teachers and the venue for provincial and city athletic meets leading to the incessant increase of student population. Also, scholarships on Trade Unions were offered as well as the production of the first yearbook for the graduates of Class 1976-1977 had become one of the school's convocations.Moreover, the construction of a one-storey PTA Building with eight classroomsin 1966 now called the CBPA Building or the College of Business and Public Administration dramatically solved problems on classroom shortage also with the construction of a one-storey concrete Canteen Building, Business Store, and Shop Room as well as the opening of the Night Class in 1968.  The destruction of the old grandstand due to fire outbreak on January 26, 1969 led into the construction of a one-storey concrete building named Chinese Chamber Building.
COTABATO CITY NATIONAL HIGH SCHOOL (CCNHS)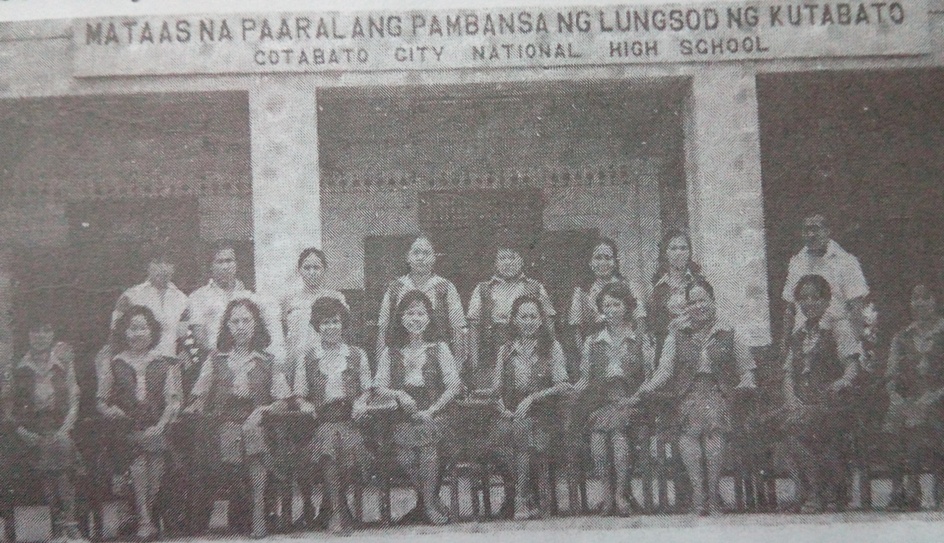 The conversion of CHS into Cotabato City National High School (CCNHS) took effect on July 25, 1977 during the administration of the Principal Payakan G.Tilendo. Eventually, the school took its formal name in SY 1980-1981. During this period, more developments had been manifested such as completion of CCNHS Administration Building in 1978,BagongLipunan Building in 1979, General Castro Building in 1978, New Home Economics Building in 1978 and World Food Building in 1979, construction of the Gymnasium, Multipurpose Gym in 1980 and completed in 1985;and CCNHS Gate and Guard's House Building andCemcom Building in 1978. Other physical facilities developments included the Administration Building, Classroom Building,BagongLipunan Building used by the College of Education now known as the Graduate College Building, L-shaped Building, Home Economics Building, World Food Buildings, and Science Building that served as the Science Laboratory Room. Also more infrastructure projectshad been undertaken like the construction of the big concrete grandstand as well as the volleyball and basketball courts. Thus, the physical facilities development had positive impact on CCNHS to rise in all curricular and co-curricular undertakings.
COTABATO CITY STATE POLYTECHNIC COLLEGE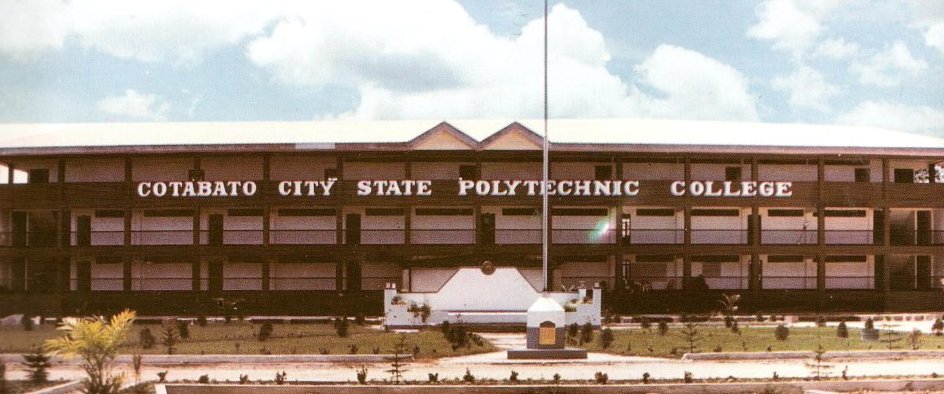 On July 27, 1981, Principal Payakan G. Tilendo with the support of his faculty and staff including the local and national government conceived the idea of converting CCNHS into a polytechnic college due to the tremendous increase of student population. Hence, on December 12, 1981 Hon. Kharis M. Baraguir, Vice Governor of Maguindanao Province who was during that time the President of Class 1953 Cotabato High School Alumni Association wrote a letter of appeal to President Ferdinand E. Marcos for the conversion into a state college which was strongly supported by Resolution No. 1, s. 1981 of Class 1953 of the Cotabato High School. Thru the power of prayer and with the guidance, grace and mercy of the Divine Providence, involving the strong support of Region XII assemblymen in the House of Representatives led by Hon. Datu Blah T. Sinsuat, AnacletoBadoy, Ernesto Roldan and Tomas Baga; Batas Pambansa 484 entitled, "An Act Converting the CCNHS into Cotabato City State Polytechnic College (CCSPC), and Appropriating Funds Thereof" was finally passed by the BatasangPambansa as approved by House Speaker Querube C. Makalintal  and approved by the late Philippine President Ferdinand E. Marcos on June 10, 1983.
            During the Second Semester of SY 1983-1984, CCSPC started offering a three-year non-degree program on Diploma of Technology (Electrical and Civil Technology)with a student population of 153 who officially enrolled as first year students manned by 11 faculty. During that period, Dammang S. Bantala whose main employment was at the Bureau of Fisheries and Aquatic Resources (BFAR) 12 had become a part-time consultant of the College particularly in the field of Curriculum, Infrastructure and Research Development. Finally, Bantala joined CCSPC in 1985 as an Associate Professor.
            Effective School Year 1984-1985, three-degree programs were offered: BS Agriculture, BS Fisheries, BS Industrial Education and BS Industrial Technology then BS in Forestry. The said programs had remained in full force until the end of Tilendo's administration as OIC-President of the College during his first term. Eventually, he was succeeded by Dr.Bologiong Pangan Pendaliday as CCSPC President who managed the institution for seven years from August 7, 1986-July 4, 1993.
On July 6, 1993, Tilendo was reappointed as a College President. Included in hisexemplar contributions to infrastructure developments were the construction of additional edifices such as the Laboratory High School Building; acquisition of eight hectares of land in Rebuken, Sultan Kudarat, Maguindanao suitable for agriculture, forestry, and fisheries; water reservoir; Al-Borhan Mosque Building; and the opening of Laboratory High School. Moreover, Bachelor degrees were added in the curricular offerings such as Bachelor of Agricultural Technology and four-year associate programs namely: Agricultural Technology, Agricultural Drafting, Food Technology and Forest Ranger. Likewise, CCSPC Faculty had been upgraded in rank thru NCC 33 reclassification.

           The second term of CCSPC President Tilendo (July 06, 1993-July 20, 1998) and his reappointment in SY 1999-2003had beenmarked by significant changes focusing on "Reengineering CCSPC for Excellence." One of the visions of rebuilding CCSPC had concentrated on infrastructure and academic developments in order to comply with the requirements for state university. Thru Res. No. 239, s. 1993, the Graduate School program was opened. Also, there was a tremendous increase of enrolment with the opening of Master of Public Administration, Master of Science in Agricultural Extension, Master of Arts in Education and Doctor of Education. In addition,  approval of evening class programs and new degree programs such as BS Civil Engineering and Industrial Technology; Master of Arts in Education Major in School Administration and Supervision; Master of Science in Agricultural Extension;Master of Public Administration; Doctor of Education Major in Educational Management thru Res. 264, s. 1995; Business Economics; BS in Islamic Studies;BS in Commerce Major in Management; BS in Cooperative Development; Bachelor of Arts (Community Development, Social Work and Industrial Psychology); BS in Computer Science,  BS in Social Work; and BS in Accountancy.
           Moreover, the implementation of the National Service Training Program (NSTP) per RA No. 9163 and the revision of CCSPC Vision, Mission and goals including the approval of CCSPC Hymn had been some of the major contributions of Tilendo's administration. Likewise Faculty employment and promotion of professors were granted PASUC Accreditations. After some time, CCSPC had become the chosen venue for seminars and trainings including athletic competitions.
           As far as Infrastructure Developmentwas concerned, one of the priorities of Tilendo's administration had been on the security of the College human and non-human resources. Through the years, construction of buildings and physical improvements had been lined up for implementation and these had been achieved thru appropriate funds for capital outlay for the given fiscal year as provided by the National Government, thru solicitations from the congressmen, senators and cabinet members of the national government. The rise of buildings and physical improvements had become visible such as the construction of new concrete fence enclosing the whole CCSPC campus, additional 3rd and 4th floor levels of the new building, Research and Extension including the new Administration Building. The demolition of the 45 year-old CHS Main Building led to the establishment of the Library Building, two Bagong Lipunan Buildings, Iron Grills and additional concreting of portion walls of the gymnasium, College of Agriculture Building, Al-Shariff Mosque, Forestry Building and repair of the Bagong Lipunan Building.
           On the other hand, the administration of CCSPC President Dr. Dingan Cadil Ali (1st Term 2003-2007) was marked by a vision of Reengineering CCSPC for Information-Computer

Technology and Center of Excellence. Hence, the administrative systems and policies were strengthened by establishing a firm and strong foundation of administrative and academic systems, policies and processes. The vision of CCSPC to become a university anchored on high-tech education, moral transformation and center of excellence had been strongly focused on aggressive generation of funds, synergizing teamwork and providing motivation and direction for the College to grow dramatically.
           Other notable contributions of Ali's administration were: reformulation of CCSPC's Vision and Mission, provision of scholarships for poor but deserving students, implementation of reforestation to alleviate problems related to climate change, provision of more relevant and functional complementation of theory and practice learning of students. Also, the Graduate College initiated activities related to Academic Reforms, Research, Extension and Production and that the Graduate School Newsletter was revived.
          Specific developments relevant to building a new CCSPC's image during Ali's term included the completion and concreting of campus road, installation of steel main gate, upgrading the Registrar's office, purchase of computers and other equipment, approval of Electronic Laboratories,construction of 50 meters covered pathway as well as renovation of the College Library and other physical facilities renovation, purchase of books and other references involving instructional materials.
          More specifically, the infrastructure boomed in 2006 thru the aggressive linkages of President Ali with CHED-Manila. The aerial perspective of CCSPC was completed. Trainings and seminars for the faculty were extended internationally, and fishpond establishment and production had been sustained. Three graduate programs assessed by the Accrediting Agency of Chartered Colleges and Universities in the Philippines (ACCUP), Inc. had successfully passed Level I Accredited Status.
          Dr.Ali's reappointment as College President (2nd Term 2007-2011) gave way to massive improvements. His administration envisioned the conversion of CCSPC into a university. Hence, he struggled to improve the administrative and academic systems and services of the College including its infrastructure programs and internal and external linkages.

           Dammang S. Bantala, Ph. D. became the successor of the former College President Dingan Ali. As the 4th President of CCSPC(1st Term 2011-2015), his administration continued the vision of the former administration particularly on converting the College into a university. Among his initial accomplishments based on Annual Report in 2011 focused on efficiency of data information on enrolments of students and graduates, faculty profile and staff development, students' development and achievements, approval of the proposal installation or programming of computerization of the cashier or collection system including training and equipment, revisions of school curriculum, confirmation of appointments of faculty members by the Civil Service Commission, and conduct of in-house orientations and trainings participated in by the faculty and students.
           Moreover, the institution had become the recipient of school facilities and instructional materials donated by government and non-government organizational linkages. Also, there had been tremendous developments of the Campus Park, Administrative Building, Library and the new Grandstand, Athletic Oval including school facilities like the College Library, Conference Room, College Gymnasium, Clinic, Accreditation Room as well as the Guidance and Testing Center.
           Based on CCSPC's Year-End Report in 2012, one of the strategic approaches of President Bantala's administration to fast track the achievement of the university status was devising the so-called Ten-Point Program Thrusts consistent with CCSPC's mission of providing students with advanced academic trainings. CCSPC has been steadfast in performing its mandated vision of acting as a centre for scholarship, science, professions, entrepreneurship; a developer of human and technology resources for global competitiveness; and a proactive change agent in Central Mindanao and Autonomous Region on Muslim Mindanao. The Ten-Point Agenda under the leadership of President Bantala were: 1) Accreditation of all its academic programs both in graduate and undergraduate, 2) Improvement and development of the quality of instruction, research, extension and production, 3) Promotion of effective governance by ensuring accountability and transparency in the disbursements of funds, 4) Implementation of continuous faculty and administrative staff development for relevance, quality and sustained commitment for responsible public service, 5) Enhancement of income generating activities and fund-sourcing schemes through linkages with local and foreign agencies, 6) Acquisition of state-of-the art equipment and facilities in classrooms and offices and construction of a four-storey building, 7) Maximum utilization of computers and communication technology, 8) Intensification of programs for intercultural  exchanges, 9) Creation of twelve centers for research, trainings and development, and 10) Conversion of CCSPC into a university.
           Also, among the notable accomplishments of Bantala's administration under review were: publication of a Research Journal, procurement of books, establishment of a website and internet connections with WIFI to different offices of CCSPC, development and revision of curriculum, conduct of medical and dental services and attendance of faculty and staff to various seminars, workshops, trainings and the like for their professional growth.
          Dr.Bantala's institutional governance marked another milestone in its existence as an institution of higher learning. In his concept paper, he uncovered his programs and strategies in addressing the multifarious problems and issues confronting CCSPC particularly on its pursuit for the conversion into Cotabato State University. He urged all stakeholders to actively participate and cooperate in accomplishing the requirements prescribed by law such as AACCUP accreditation and many others. He has been engaging with Embassy Officials of Muslim countries for the funding of the proposed one unit-high rise building and other infrastructuresassuring that every single centavo of their financial assistance shall be duly accounted for. Thus, there had been an annual increase of the college manpower, facilities, instructional materials and student population through intensive and extensive improvement of programs both in its internal and external operations.As disclosed from the Annual Report of 2013, there was an improvement of CCSPC's performance in its four-fold basic functions namely: Instruction, Research, Extension and Production. Likewise, there have been extensive preparations and publications of the 2011 and 2012 CCSPC Annual Reports, approval of the College Strategic Plan and Proposed Organizational Structure of the Cotabato State University by the Board of Trustees as well as Students' Achievements and Organizations.
COTABATO STATE UNIVERSITY (CSU)
Republic Act No. 10585 was passed in the House of Representatives and the Senate on February 6, 2013 mandating the conversion of the CCSPC into a state university to be known as the Cotabato State University was approved by His Excellency President Benigno Simeon C. Aquino on May 24, 2013.
         In response to the efficient implementation of the said Act, a five-year CCSPC strategic plan (2014-2018) was prepared focusing on the six operational requirements prescribed by the Commission of Higher Education (CHED) as enumerated in Section 26 of RA 10585. Among these were: 1) Level III Accreditation or equivalent under CHED Policies for at least four of its undergraduate programs, one in liberal arts and one in the sciences and two in graduate programs, 2) Ratio of qualified full-time faculty with requisite degrees to number of students, 3) Adequate library and laboratories, 4) Research and development output of practical and commercial application to the community, 5) Relevant linkages and outreach programs that are of service to the community, and 6) Relevant academic policies, systems and processes.
         Today, in order to strengthen the efficiency of President Bantala's management in complying with the said requirements, massive schemes has been implemented. As a result, there were two programs of the College that reached Level III Accreditation Status namely: Master of Public Administration and Master in Education Major in Administration. Also, there were 11 other programs that achieved the Level II Accreditation Status which were: BS Information Technology, BSEd Major in Administration and Supervision, BS in Social Work, MS in Agricultural Extension, BSEd-English, Math and MAPEH, BS in Agriculture, BS in Community Development, BS in Psychology, MA in Peace and Development, Ph. D. in Educational Management, and Ph. D. in Public Administration. Likewise, there were ten programs which had been under Level I Accreditation such as: BS in Agricultural Technology, BS in Agribusiness Management, BS in Business Administration (Majors: Marketing Management, Human Resource Development Management), BS in Fisheries, BS in Forestry, BS in Industrial Technology, Major in Civil Technology, BS in Industrial Technology, Major in Electrical Technology, BS in Public Administration, BS in Islamic Education, Ph. D. in Peace and Development. Nevertheless, BS in Civil Engineering landed as a candidate for such accreditation status.
        Hence, working hard on his operational and contingent leadership style of confronting the developmental issues and concerns of the institution including his administration's comprehensive approach for the achievement of positive change focusing more on moral leadership, good governance and excellent quality of instruction, research, extension and production thru the spirit of teamwork and transparency, CCSPC President Bantala has now been serving on his 2nd Term (2015-2019) zeroed in that the conversion of CCSPC into CSU will be highly dependent on the ability to comply with the CHED requirements.  The current administration of President Bantala has been characterized by efficiency and effectiveness and excellent humanitarian approach and it has been committed to abide by all legal means leading to productivity and sustainability making CSU to be the home of intellectual heroes in all fields of specializations both in the local, national and international communities.
References:
CCSPC Annual Reports
Files on Regular Board of Trustees Meeting
Villa, Thelma F.  (2010). History of Cotabato City State Polytechnic College: From Its Glorious Cotabato High
School and Cotabato City National High School.Cotabato City, Philippines: Notre Dame Press, Inc.