Dr. Saidamin P. Bagolong - Director for External and International Linkages, Dr. Radzata A. Abdulgani – Chief Administrative Officer, Dr. Ainonnacirin A. Abdulgani – Human Resource Management Officer Designate, Dr. Ma. Rhodora F. Jovellano – Dean of College of Business and Public Administration, Dr. Mocamad M. Macasayon –Head of Center for Human Ecology, Dr. Mhd Faheem M. Aliuden – Project Monitoring Head, and Dr. Baina M. Kikay – Program Head of Bachelor of Public Administration attended the annual Philippine Society of Public Administration International Conference with the theme "Beyond the Pandemic: Reexamining, Reimagining, Retooling, Refounding, and Reenergizing Public Administration and Governance from October 22-23, 2021 via Zoom Teleconferencing.
Joining them were Dr. Daturaiz A. Mamadra – Planning Officer of  the Local Government of Sultan Kudarat  and Dr. Leo P. Lardera – Administrative Staff of the Local Government of Lebak, who were both Ph.D-Public Administration alumni of the University and advisees of Dr. Bagolong. Dr. Mamadra presented his dissertation study titled "Participation of Sultans in the Decision-Making Process in the Province of Maguindanao, Philippines" while Dr. Lardera presented his dissertation study titled "Challenges on Governance Performance of the Barangay Elected Officials during COVID-19 in Southern Philippines."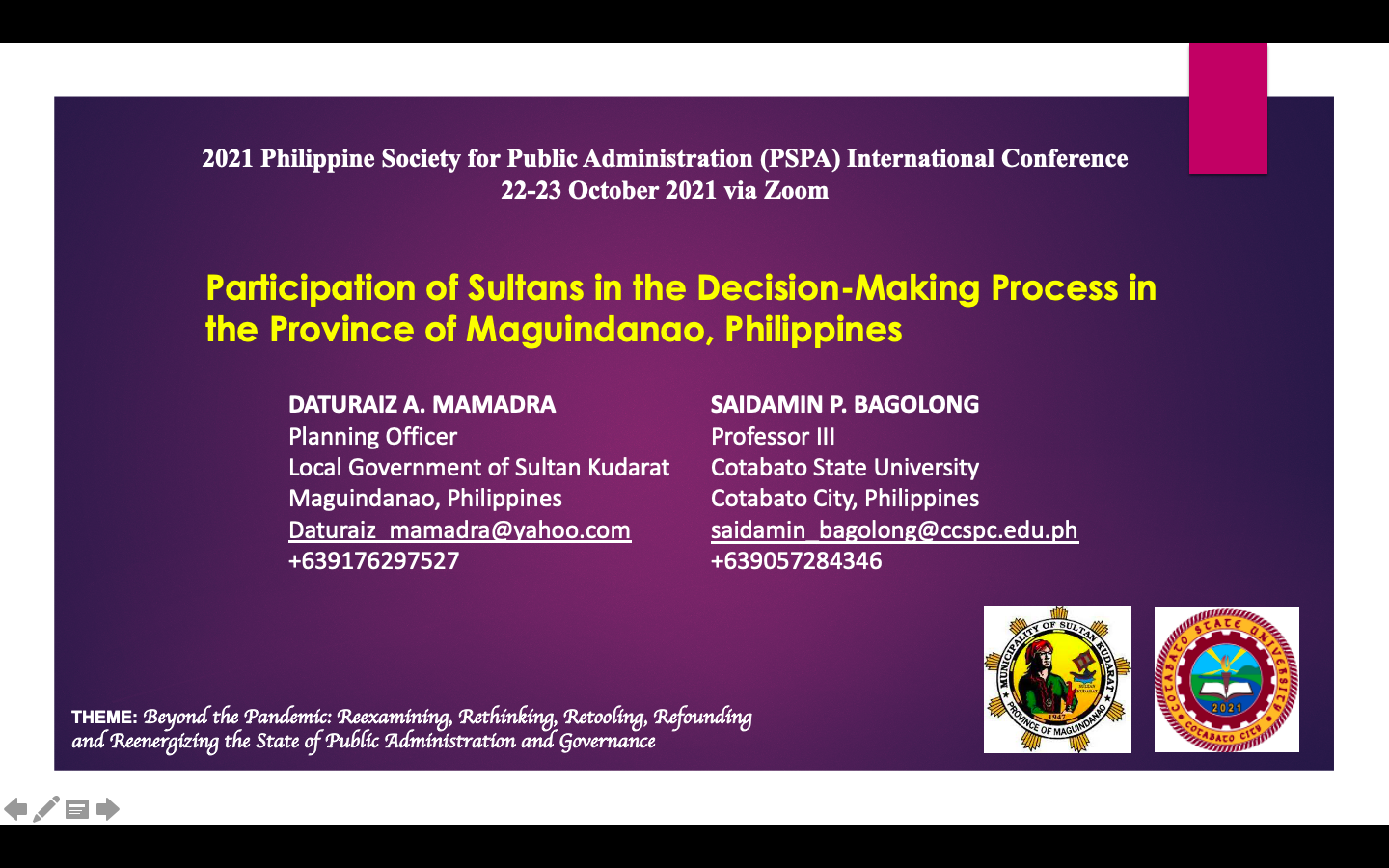 This year's conference strives to unlock and respond to existing perplexities by reexamining the state of public administration, reimagining the vision of public administration and governance in 2022, retooling and looking at the roles of public administration and governance, refounding emerging trends and issues in public administration, and reenergizing public administration education. Tackling these topic areas is vital to critically assess and keep us with the rapid and unprecedented systemic transformation experienced today.
The Philippine Society of Public Administration (PSPA) is a non-profit professional organization dedicated to the improvement of public service since 1981. It provides an opportunity to build a strong professional network with other social scientists, policymakers, and school administrators involved in education and training in public administration. //Saidamin P. Bagolong, DPA